Welcome to our online store!
Shopping cart:
0 items, 0.00
Policies, Terms and Conditions
Overview: Updated 11/2016
A. Shipping Policy
Warehouse Locations
Where we ship
How we ship
Shipping Cost
When We Ship & Process orders
Holiday Closures
Order Status
B. Payment Policy
Credit Card Payment Information
Paypal Payment Information
Wire Transfer Payment Information
Additional charges
Lead Wheel Weight requirements
Special Order Items
C. Returns Policy
Exchanges and Returns Info
Unacceptable Returns
Partial Refunds
Directions for return from your account page
D. Privacy Policy
Your Privacy
What information does this store collect and how do we use it
How do we protect customer information?
"Cookies"
Will we disclose the information it collects to outside parties?
Summary
Your Consent
E. Terms & Conditions
Links
Typographical Errors
F. Questions & Feedback
​
---
Shipping Policy
A-1. Warehouse Locations:
Los Angeles Area – Headquarters
[Can ship via FedEx, UPS and USPS – Domestic and International]
7317 FOOTHILL BLVD. TUJUNGA CA, 91042
818-352-8717, 800-300-2674, FAX: 818-352-8119
San Diego Area
[Can ship via FedEx & UPS – Domestic Only]
4343 TWAIN AVE. SAN DIEGO, CA 92120
619-584-9250, 888-550-2674, FAX: 619-584-9201
Sacramento Area
[Can ship via FedEx – Domestic Only]
11358 AMALGAM WAY UNIT#5 RANCHO CORDOVA, CA 95670
916-635-0163, 800-523-7839, FAX: 916-635-7336
---
A-2. Where We Ship:
We can ship to virtually any address in the world. Note that there are restrictions on some products, and some products cannot be shipped to certain international destinations.
A-3. How We Ship:
We ship via FedEx, UPS and USPS for Domestic Orders; and via USPS & FedEx for International orders. Please see Carrier Information for more information regarding shipping services. Note: We ship only UPS, if you ship collect on your account.
We have 3 whse locations as well as multiple vendor locations in which your product could ship out of, which location depends on stock available. We reserve the right to change shipping carrier without notice based on availability of stock, product type (liquid etc), product size & weight or if the product is marked 'Special Order'. We will try to honor method and days estimated to receive your order but it is not always possible.
For example: You choose UPS Ground but product is in San Diego which only ships FedEx, we will ship out FedEx Ground instead at no additional cost. If you choose USPS Priority you order will ship out FedEx Ground unless you have an APO or PO Box Address then you will be contacted and we will work out the shipping options with you.
FedEx: For All domestic shipments to a home instead of a business address the value cannot exceed $300.00 or it will have to be shipped to a FedEx office location. REASON: FedEx does not require a signature for deliveries to residential addresses and because it is a high $$ value, we will have to ship to a FedEx Office Location near you. The address of the location will be provided to you via email or a phone call. For pick-up you must bring the ID that matches the name on the order.
USPS: Cannot ship Liquid or Chemicals. Oversized and or heavy boxes have the limit of up to "70 lbs, when measuring over 108 inches but not more than 130 inches in combined length and girth."
A-4. Shipping Cost:
Shipping is always additional. Shipping costs depend on the options you choose, the size and weight of the item, and the delivery and shipping address. We provide a wide selection of delivery options with FedEx, UPS and USPS. You also have the option to choose how quickly you want to receive your order. During checkout the available shipping carriers, methods and costs will be presented for your selection. Please note large, heavy or liquid items cannot ship via USPS. Please call in your order for a more accurate shipping quote.
RE: International Orders - Currently the shipping cost for international shipments will vary. We will notify you if any additional freight is needed. If approved we will add it to your order. If you are paying by Pay pal, we will request the additional amount via pay pal prior to shipment of your product. Note: The shipping charge assesed for international customers is for shipping the product to your country only. Borg is not responsible for the duties and taxes assessed by your country when product is received.
Orders over 100 lbs: Our website cannot calculate shipping for orders over 100 lbs. You can check-out as normal and we will contact you with the shipping charge or call in your order. We will need to bill you separately for the shipping. Note: If you process the order through the website with your credit card, we do not keep that information it is encrypted.
A-5. When We Ship/Process Orders:
Hours of Operation: Monday - Friday 8:30am - 5:00pm PST
Whse Will Call Hrs: Monday - Friday 8:30am - 4:00pm PST, minimum 1 day notice for Will Call Orders.
Process of Online/ Phone Orders: Orders need to be received between 8:30am - 10:30am PST to be processed the same day. If you place your order between the hours of 10:31am same day - 8:30am the next day PST M-F, your order will be processed the next Business Day.
We are closed on all major holidays listed below.
A-6. Holiday Closures:
New Year's Day
Memorial Day
Independence Day
Labor Day
Thanksgiving Day & Day After
Christmas Day
Note: Orders will not ship until payment has been received.
---
A-7. Order Status:
After you've placed your order, you can check on the shipping status in Your Account 'My Orders Page.' You will receive an email confirmation once your order is shipped with the tracking number, if available.
If a product is not in stock and or backordered we will notify you as soon as possible via email and or phone call to let you know of the delay in your shipment.
Please provide accurate contact information when processing your order or your order will be delayed.
---
Payment Policy
Note: Orders will not ship until payment has been received.
B-1. Credit Card: (We accept: AMEX, VISA, MASTERCARD, DISCOVER)
Domestic: Credit Card payment can be used for all transactions over $300.00 a credit card authorization form needs to be filled out and faxed to (818) 352-8119 or sent via email to [email protected] along with a copy of your driver's license or other form of ID.
International: Credit Card payment can be used for all transactions under $500.00. For all orders over $100.00 a credit card authorization form needs to be filled out and faxed to (818) 352-8119 or sent via email to [email protected] along with a copy of your driver's license or other form of ID. Max $500.00 can be charged. Anything over $500.00 wire transfer or ACH Payment is needed.
B-2. Paypal:
Domestic: Paypal Payment can be used for all domestic orders in any amount.
International: Paypal Payment will be accepted for all order transactions below $500.00 unless the customer already has a payment history with us, then it will be a case by case basis. Payments $500.00 and above, wire transfer or ACH Payment is needed.
Note: All Paypal transactions will be processed the same business day, as long as we receive fund verification. (Orders placed between 8:30am - 10:30pm PST, M-F)
B-3. Wire transfers:
Domestic: Wire transfers can be used for all domestic orders over $500.00. Note: An additional $25.00 fee for each transaction.
International: All orders over $500.00 will require a wire transfer or ACH Payment. Note: Additional $25.00 fee for each transaction.
Note: Orders will not ship or Processed with vendor until payment has been received.
B-4. Additional Charges:
For all orders under $10.00 USD a 20% "Low Order Fee" will be added. This is a Low Order Fee and will be added to your order total at checkout. For example: If your subtotal is $9.00, your low order fee will be $1.80
---
B-5. Lead Wheel Weight Requirements:
Note: Note: Minimum Order Requirement on All Lead Wheel Weights. Lead wheel weights will be drop-shipped directly from the manufacturer and have a min order amount of $200.00 and each part # must be bought in multiples of 4. The use of Lead Wheel Weights is against the law in certain U.S. states. Please make sure to check the laws in your state regarding wheel weights prior to your purchase.
B-6. Special Order Items:
Some products are marked 'Special Order' will require additional lead time. You will be informed via email or phone call if we are informed by the vendor that the lead-time is longer than 10 business days.
Note: You can see if the product is a special order item if you click on the product and look in the upper right hand corner in Orange it will say 'Special Order'.
Example…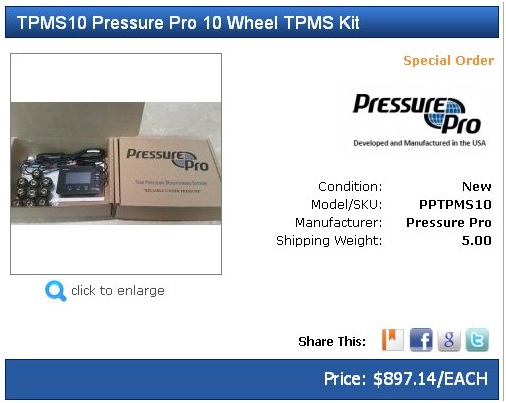 ---
Returns Policy
C-1. Exchanges and Return Info:
You may return new, unopened items in original condition within 30 days of delivery for a refund of the product. Items should be returned in their original product packaging with copy of invoice And/Or RA Form. You will not receive the shipping cost refund and you must pay for return shipping if yourtireshopsupply.com is not at fault and the reason for the return.
All returns must include a copy of the original sales order. A minimum 20% restocking fee will be charged on special order items or you will be informed if you are not able to return "Special order" Items. Items back ordered will be shipped as soon as the merchandise is available. In accordance with the truth lending law, effective July 1, 1969, our interest charges are 1-1/2% on the unpaid balance at the end of thirty days or 18% yearly. There may be product substitutions. If we don't have the product in stock from the manufacturer listed at time of order, we may have the same product from a different manufacturer.
Reasons for a full refund or exchange: The item was defective and or faulty or you were shipped the incorrect product or quantity of products.
C-2. We do not accept returns of the following items:
Items that are classified as hazardous materials or use flammable liquids or gases.
Any product not in their original packaging and in re-saleable condition.
Some products are Non-Returnable because they were a 'Special Order' or 'Discontinued' and are final sales. Special order items are non-stocking items that have to be "special ordered" from the manufacturer or vendor.
All Equipment including air compressors, tire changers, wheel balancers etc.
C-3. Partial Refunds will be issued for the following items:
Most items that are returned more than 30 days after delivery
Any item that has obvious signs of use
A 20% restocking fee will apply to any special order item that is returned.
Any item not returned in the condition it was received
If you need to exchange or return your products…
Any shortages, damages while in transit must be reported within 5 business days of receipt.
Visit your Account Page (you must be logged in) to begin the process. See Directions below.
Email us at [email protected]
Give us a call (818) 352-8717 x111 / (800) 300-2674 x111
---
C-4. Directions for return from your account page:
Go to 'My Account'
Click on 'View the orders I have made'
Under 'My order History', Click on 'View'
Scroll down to the bottom and click on 'Return' on the item(s) you want to return.
Add the reason for your return:
No reason (Default) – If you choose this you will not be refunded the shipping charge.
Incorrect Item or Quantity
Item Damaged
Item Faulty
Add the preferred Refund Method:
Paypal – PayPal Service fee may apply
Exchange Item
Credit Card Refund
Credit My Charge Account
Check
None (Default) – Payment was not received
Add comments to the return if you would like; this will help determine the problem and help determine the action we will take regarding your order. Once you complete the process you will be issued and RMA number for your return.
To Review 'Returns' Status:
Go to 'My Account', Under 'Product Returns', Click on 'Track a Return' and you will be able to see the status of your return.
Please note that it takes us up to 7 business days to process returns once they arrive at our Returns Center. You can view completed returns and refunds by visiting Your Account and accessing the relevant order summary.
You should expect to receive your refund within four weeks of giving your package to the return shipper; however, in many cases you will receive a refund more quickly. This time period includes the transit time for us to receive your return from the shipper (5 to 10 business days), the time it takes us to process your return once we receive it (3 to 5 business days), and the time it takes your bank to process our refund request (5 to 10 business days). Yourtireshopsupply.com will notify you via e-mail of your refund once we've received and processed the returned item.
---
Privacy Policy
D-1. Your Privacy:
Yourtireshopsupply.com is committed to protecting your privacy. We use the information we collect about you for sales and marketing of our own services and to provide support and upgrades for our products and services.
D-2. What information does this store collect? How do we use it?
When you visit yourtireshopsupply.com, we track where you came from, what pages you read and how long you stayed here. If you fill out a contact or estimate form, we may ask for your name, address, company name, e-mail address and some details about any products you are interested in, so we can evaluate your needs and provide an accurate service. We may add your contact information to a mailing list for future prospecting. We may also track users using the Google Analytics toolset. Please examine Google's Privacy Center for information about Google's visitor tracking and privacy policies.
D-3. How do we protect customer information?
When we accept payment online, we use a Secure Server for collecting personal and credit card information. The secure server layer (SSL) encrypts (scrambles) all of the information you enter before it is transmitted over the Internet and sent to us. Furthermore, all of the customer data we collect is protected against unauthorized access.
D-4. What about "cookies"?
"Cookies" are small pieces of information that are stored by your browser on your computer's hard drive. Yourtireshopsupply.com use cookies to collect and store any information about visitors or customers, including when they last visited.
D-5. Will we disclose the information it collects to outside parties?
Yourtireshopsupply.com may provide aggregate statistics about our customers, sales, traffic patterns, and related site information to reputable third-party vendors.
Yourtireshopsupply.com may release account information when we believe, in good faith, that such release is reasonably necessary to (i) comply with law, (ii) enforce or apply the terms of any of our user agreements or (iii) protect the rights, property or safety of our company, our employees, our users, or others.
D-6. In Summary:
Yourtireshopsupply.com is committed to protecting your privacy. We use the information we collect on the site to make using our products and services simple as possible and to enhance your overall experience.
D-7. You're Consent:
By using our Web site, you consent to the collection and use of this information by us. If we decide to change our privacy policy, we will post those changes on this page so that you are always aware of what information we collect, how we use it, and under what circumstances we disclose it.
We may also provide links to affiliated sites. The privacy policies of these linked sites are the responsibility of the linked site and we have no control or influence over their policies. Please check the policies of each site you visit for specific information.
---
Terms and conditions
E-1. Links:
Yourtireshopsupply.com may contain links to other sites or information of other sites on the Internet that are owned and operated by third parties. You acknowledge that were not responsible for the content located on or through any such site.
E-2. Typographical Errors:
In the event a product is listed at an incorrect price or description due to a typographical error or an error in pricing information received. Yourtireshopsupply.com has the right to refuse or cancel any orders placed for a product listed at the incorrect price or description. We have the right to refuse or cancel orders whether or not the order has been confirmed and your credit card charged or payment received. In this event we will timely issue a credit to your credit card or refund your money on those particular products with the error in price or description.
---
Questions and Feedback
If you have any questions or feedback related to our Policies or Terms and Conditions please Contact us.
Yourtireshopsupply.com - Headquarters
Email: [email protected]
7317 Foothill Blvd. Tujunga, CA 91042
(818) 352-8717 x111 (800) 300-2674 x111 Fax: (818) 352-8119
Business Hours: 8:30am - 4:00pm PST